"It has nothing to do with climate"
Posted: April 16, 2016
Filed under:
Uncategorized
1 Comment
"It is difficult for climate alarmists to convince people that they are going to burn up, when they aren't hot. But the biblical flood story is an easier scam to push, because it is based on a sudden event sometime in the future. People who are mentally unstable (i.e. progressives) latch on to these ideas easily."

NASA's Antarctic ice study, released October 2015, confirms how mentally unstable progressives' interpretation and manipulation of climate science has become in order to suit their political agenda…

"A new NASA study says that an increase in Antarctic snow accumulation that began 10,000 years ago is currently adding enough ice to the continent to outweigh the increased losses from its thinning glaciers."

http://www.nasa.gov/feature/goddard/nasa-study-mass-gains-of-antarctic-ice-sheet-greater-than-losses
Real Science
The cornerstone of climate alarmism strategy is making people believe that their carbon sins will lead to a great flood. A giant flood caused by man's sin is an easy concept to push, because most people were raised with it.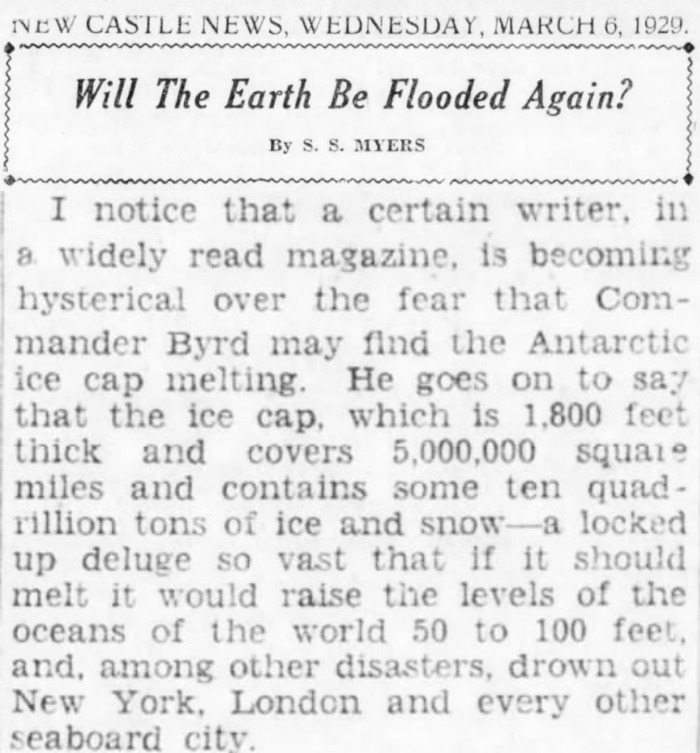 6 Mar 1929, Page 11 – at Newspapers.com
The basis of the modern flood theory is that the West Antarctic Ice Sheet (WAIS) will somehow "collapse" and that it is due to man-made global warming.
Scientists Are Watching in Horror as Ice Collapses
The theory of collapse of the WAIS has been around for a long time, and scientists have also known for a long time that "it has nothing to do with climate."


23 Jan 1977, Page 13 – at Newspapers.com
Scientists also know that the "collapse" of the WAIS has been occurring for centuries, long before the automobile was invented.
View original post 81 more words
---